Pinot Gris (aka Pinot Grigio) is a mutant grape variety originating from its clone brother pinot noir variety. It is usually appears as a grayish-blue fruit colour – accounting for its name. Its grapes can also range from bronwish-pink to black or even white in appearance.
HACK: Pinot Gris & Pinot Grigio are interchangeable. However, it's useful to know that Pinot Gris implies a fruity 'French' style and Pinot Grigio to suggest a drier "Italian" style.
Pinot Grigio is a zesty and refreshing white wine that peaks popularity in the Summer months and is known for its bone-dry profile and as a fabulous accompaniment to seafood. The primary fruit flavors are lime, lemon, pear, white nectarine and apple . In the glass pinot gris & pinot grigio is commonly a light yellow-green and carries punchy acidity on your palate.
The second most popular white wine in America, Pinot Grigio is a dry white wine that has a punchy acidity with flavors of lemons, limes, green apples and 
Lesser known, is that depending on where the grapes are grown, Pinot Gris can take on faint honeyed notes; floral aromas like honeysuckle; and a saline-like minerality.
The 3 Main Types of Pinot Gris
Minerally & Dry
Fruity & Dry
Fruity & Sweet (Alsatian)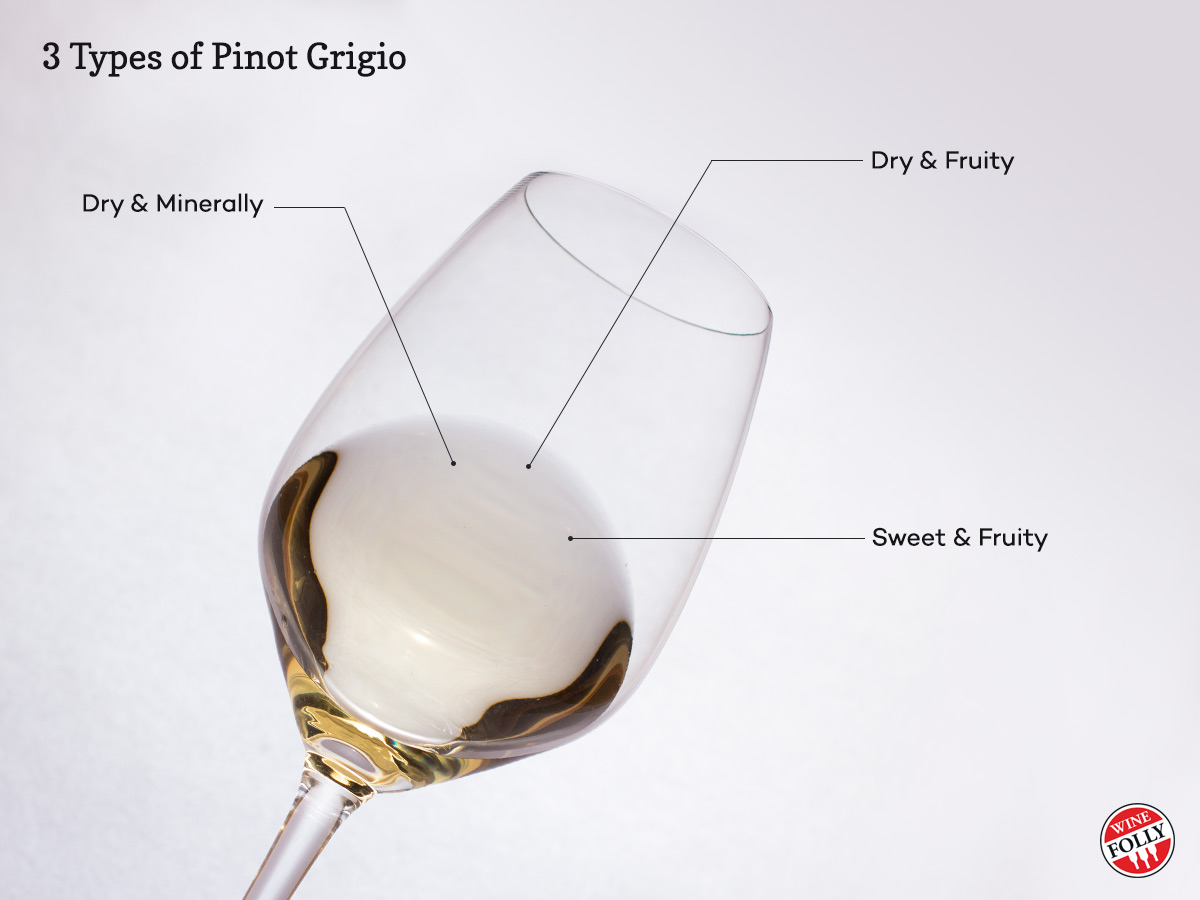 1. Minerally & Dry Pinot Grigio
This style is most famous from the northern parts of Italy and traverses the foothills of the Alps nearly all the way from Italy through Austria and even Romania, Slovenia and Hungary. The mountains are a powerful force on the agriculture, insuring that the grapes keep their high acidity.
Expect exceptionally dry whites that pair perfectly with mussels, french fries and hot summer days. This style is the quintessential 'Pinot Grigio,' loved for its simplicity, 'lack of fruit' and sometimes saline quality.
Regions that specialize in this style are:
Trentino-Alto Adige, and Veneto and Lombardy, Italy
Okanagan, Canada
Hungary
Austria
Slovenia
Romania
Pfalz, Rheinhessen and Rheingau, Germany
What to look for on the label
Wines are often produced in stainless steel tanks. There's no oak aging or malolactic fermentation. It's common to find these with lower alcohol levels (maybe between 10%–12.5% ABV).
---
2. Fruity & Dry Pinot Gris
Winemakers often choose the word Pinot Gris to describe this fruit-driven style of Pinot Gris. You'll be able to pick out lemon, yellow apple and white peach among the flavors that you smell. This presence of more fruit in the aroma tells us that these wines grew in a more sun-friendly climate.
Besides just the fruity aromas, the wines have less intense acidity and more of an "oily" textured mouthfeel. This is because winemakers often add a special bacteria after the alcohol fermentation that "eats" sharp acids and 'poops out' smooth acids. This process is called Malolactic Fermentation — where Malic acid is the harsh acid and lactic acid is the smooth oily one.
Regions that make this style are new world wine regions. Some include:
Fruili-Venezia Guilia, Sicily, Abruzzo and Tuscany in Italy
Australia
New Zealand
Chile
California
Oregon
Washington
Argentina
What to look for on the label:
These wines are produced in stainless steel tanks or "neutral" barrels. One notable feature is that they're often aged on the lees. Some wines gain additional creaminess from partial malolactic fermentation.
HACK: 'Lees' are the dead yeast cells and other particles remaining in a wine after fermentation. They settle as sediment or creamy mud at the bottom of the fermenting container.
---
3. Fruity & Sweet Pinot Grigio
Perhaps the only place in the world that makes a quality sweeter-style Pinot Gris is Alsace, France. For centuries Alsace attempted to recreate the intensely sweet white wine called Tokaji ("toe-kye") drunk by kings in Transylvania and the Ottoman empire (now Hungary). In fact, up until 2007, Alsace could use the words "Tokay d'Alsace" on their bottles of Pinot Gris!
Today, Alsace is one of the only regions in the world making a sweet style of Pinot Gris. With flavors of sweet lemon candy, honeycomb and honey crisp apples, winemakers apply very advanced wine making techniques to increase the mouthfeel texture and use late harvest and noble rot (infiltrated by botrytis) grapes to maximize the flavor potential.
Regions that make this style include:
Less sweet:

'Pinot Gris' and a Grand Cru Pinot Gris

Very sweet:

 Vendage Tardives ('late harvest') and Sélection de Grains Nobles (their 'best ever!')
Canberra, Australia
HACK: A Rosé Pinot Grigio called Ramato
Rose wines are commonly made by blending cabernet Sauvignon, shiraz, zinfandel,  temporarily or pinot noir to white grapes through various methods.
But it might surprise you to know that there is also a rosé Pinot Grigio that uses the pale purple skins of the grape to stain the wine a pale copper hue. Ramato producers typically macerate the juice in the skins, –just like rose– for about 24 for 36 hours.
What distinguishes ramato from a rosé or orange wine is that ramato is a product of historical winemaking style from Friuli, Italy, made with Pinot Grigio grapes.