Dessert wines or better known as 'Pudding wines' and 'Sweet wines' are meant to be enjoyed in little glasses and treasured. Such like you would a glass of Scotch.
Dessert wines date all the way back to the 1800's and were particularly popular during the middle of the 20th Century. If you ask your grandparents' what they drank back in their day… Then chances are, it was usually a Sherry or a Port they liked best on a night out with friends. Although they couldn't pass up a 'cold beer' if it was on offer.
Did you know, several of the most glorified old wines of the world – such as Sauternes from Bordeaux and Essencia from Hungary, could be as thick and sticky as maple syrup? Some dessert wines just so happen to handle a shelf life for up to 40 years. It might also be worth asking your oldies if they still have a bottle? They can be delightful with dessert.
Modern dessert wines, on the other hand range from very-dry, to very-sweet. They make for some of the boldest, most intensely flavoured, and aromatic vinos' in the world.
Types of dessert wines:
The range of sweet wines available is both boisterous and diverse. Same you may have heard of include, fizzy Moscato, Port or a Sauternais–styled wine – also known as a Late-Harvest white wine, which are the most common styles produced. Some different types of dessert wines are outlined below.
Sauternes
Sauternes are made mostly from Semillion with Sauvignon Blanc and Muscadelle, and originate from the motherland – Bordeaux. They are full-bodied, sweet, and either a late-harvest white wine or made from grapes affected by noble rot (which we will explain below).
Flavour profile:
Expect Sauternes to exhibit intense notes of honeyed apricot, butterscotch, caramel, coconut, mango, ginger, marmalade, and citrus themes, along with tropical fruit, honeysuckle, and toasted baking spices. By the way, Sauternes qualifies as a very sweet, wine, with anywhere from 120–220 g/L of residual sugar. So maybe skip dessert or make sure you are in the mood.
For comparison's sake, a bottle of coke is 113 g/L of sugar.
Sweet-Wine Sauternes appellations in Bordeaux, include:
Sauternes, Barsac, Cérons,
Sainte-Croix-du-Mont,
Cadillac, Loupiac,
Premières Côtes de Bordeaux,
Côtes de Bordeaux Saint-Macaire
If you're looking to buy a case of two, sauternes are lovely to enjoy with youth, or age for decades (5–30+ years). You can expect to spend around $30+ for a decent bottle (375ml).
What is Noble Rot?
Boytrytis cinerea or 'noble rot' is a grey fungus that is deliberately cultivated on grapes to enhance the making of certain sweet wines – call it a good mold. Botrytis requires moist conditions. If the weather stays wet, the damaging form, "grey rot", can destroy crops of grapes. Grapes typically become infected with Botrytis when they are ripe. Grapes typically become infected with Botrytis when they are ripe.
How did Botrytis get discovered, you ask?
Well in the mid-1800's there are tales on two chateau owners who accidentally left their grapes to hang on the vine too long, causing the grapes to rot. Who knows – Perhaps they were drinking? When this occurred, the fungal attack went after the grape's skin, puncturing tiny holes to effectively dehydrate an entire cluster of grapes which concentrates the leftover sugars.
'Noble rot' does two things to wine. It intensifies the sweetness level and adds flavour complexity. It does this by dehydrating the grapes, while maintaining the sugar levels. So more grapes are needed to make the same amount of juicy – but it has higher sugar and alcohol levels.
Noble rot causes grapes to dehydrate while maintaining the sugar levels. More wine grapes are needed to make the same amount of juice and thus the juice has higher sugar content. Dessert wines made from Noble Rot grapes are more viscous and sweeter, some even have higher alcohol content. Flavours are often described as 'honey' and 'beeswax'.
Food Pairing:
While Sauternes is great for dessert when sipped by itself, there are a number of tasty pairing options that will stretch your glass a bit more. Consider balancing your wine with savory flavors like Roquefort, Livarot and Foie Gras. That said, Sauternes shine really well alongside fruit-themed desserts, cheese cakes and terrine with caramelized onions. There is no denying, that if you bring out one of these out a dinner party- you will steal the show.
Late Harvest White Wines
Late harvest means exactly what it's called. As grapes hang on the vine longer in the season they become even sweeter and more 'raisin', resulting in grapes with concentrated sweetness.
Richly sweet wines are made with the highest quality grapes in an unfortified style and can be made from any grape vine, by leaving it on the vine.That being said, it's popular to find late-harvest wines using Chenin Blanc, Sémillon, and Riesling grapes.
In Alsace, late harvest is called "Vendage Tardive," and in Germany it's referred to as "Spätlese." Many of these wines can age 50+ years because sweetness and acidity preserve their fresh flavor.
Ice Wine (Eiswein)
True Ice Wine is extremely rare and expensive for two reasons. One, it only occurs in bizarre years when a vineyard freezes. And two, ice wine must be harvested and pressed while grapes are still frozen!
The largest ice wine producer in the world is Canada. You can find ice wines in cooler regions like Germany, Austria, and Switzerland.
Most ice wines are made with Riesling or Vidal grapes, although anything, even Cabernet Franc, can be used to produce an ice wine. You'll find them to be honeyed and richly sweet, similar to a noble rot wine.
Sparkling Sweet Wine
The carbonation and high acidity in sparkling wine makes it taste less sweet than is actually is! Certain grape varieties smell sweeter than others. This tricks our brain into thinking they taste sweeter too! For instance, a Demi-Sec (aka "Semi Secco") Moscato tastes sweeter than a Demi-Sec Champagne even though both may have the same amount of sugar.
When looking for sweet dessert wine Champagnes and other sparklers, keep your eyes peeled for these words on the label:
Demi-Sec* (means "off-dry" in French)
Amabile ("slightly sweet" in Italian)
Semi Secco* ("off-dry" in Italian)
Doux ("sweet" in French)
Dolce / Dulce ("sweet" in Italian / Spanish)
Moelleux ("sweet" for some French wines)
*not to be confused with "Sec" or "Secco" which is the term for dry in French and Italian.
Fortified Wines
Fortified wines can be either dry or sweet and have a longer shelf like after they are opened. They are made when grape brandy is added to a wine and are higher in alcohol content at about 17-20%.
Port
Port wines are known for its richness. There are several styles of Port, including red, white, rosé, and an aged style called Tawny Port. Of the many types of Port out there though – there are two to look out for.
These two major styles include:
Red Port in an introductory style with more berry and chocolate flavors (slightly less sweetness), and
Tawny-coloured Port with more caramel and nut flavors (more sweetness).
Tawny Ports are aged in large wooden casks and smaller wooden barrels. And the longer the it ages, the more nutty and fig-gy it becomes, as well as complex. So if you can hold off drinking it for A 30-40 years, it's worth the wait!
How is it made? At a point during the fermentation, the wine is strained and blended with a clear grape spirit (with nearly 70% ABV) that stops fermentation and fortifies the wine. After this process, there are a series of wine-making steps that lead into the different styles listed below.
Different types of Port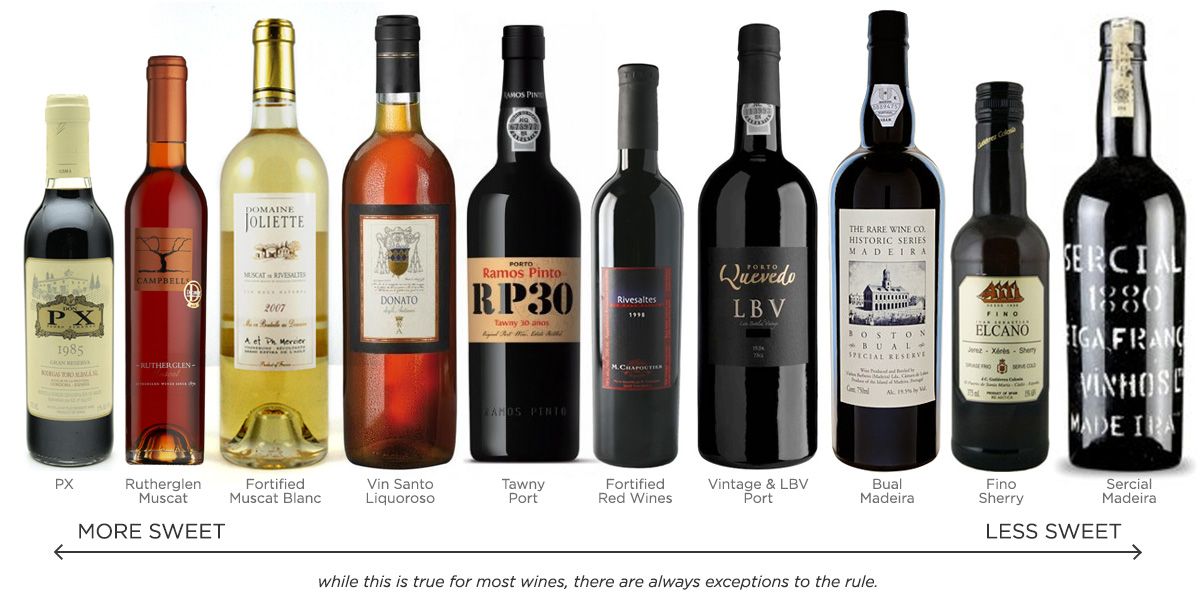 While much of the Port we see in the supermarket is of average quality, there are many fine Port wines that are highly treasured and cost several hundred dollars. Let's get up to speed on this fascinating, historic sweet red wine.
Good to know: Vintage & LBV Port (sweet)
LBV and Vintage Port are made in the same style but LBV are designed to be enjoyed in their youth (due to the style of cork enclosure) and vintage Ports are meant to be aged about 20-50 years before drinking.
What makes Port so special?
Port is one of the most historical and rare wines in the world. A true Port, is one that originates from Portugal and is a unique blend of indigenous grapes, found along the Douro river. Port grapes include Touriga Franca, Touriga Nacional, Tinta Roriz (aka Tempranillo), Tinta Barroca and Tinta Cão, and there are said to be at least 52 varieties!
Fun fact: Each grape adds a unique flavor to the blend. For example, Touriga Nacional adds blueberry and vanilla notes, and Touriga Franca adds raspberry and cinnamon notes.
Port-Style Wines a.k.a. Vin Doux Naturel (sweet)
Port can only be made in Portugal. Although several producers all over the world make port-style wines such as Zinfandel 'Port' or a Pinot Noir 'Port' today.
Serving Port Wine:
Port should be served just below room temperature, around 60 °F (16 °C). A popular way to serve Ruby Port in the summer (with a meal) is on the rocks with a peel of lime!
Pairing with Food:
Port wine pairs wonderfully with richly flavored cheeses (including blue cheese and washed-rind cheeses), chocolate and caramel desserts, salted and smoked nuts, and even sweet-smoky meats.
Sherry
Did you know? 'Tapar' means to cover – and 'tapa' is a lid. The origins of 'tapa' can be first traced to Sherry, always served with tapa; such as jam, cheese or bread to protect the wine from flies and dust.
Tarar = cover
Sherry comes from Andalusia in Spain and is unique in that they are made using three different grapes (just like Champagne). Sherry is made with white wine grapes, and boasts intricate flavours of nutty saline, jackfruit, and preserved lemon.
The Grapes: Made with white grapes, sherry uses Palomino Fino, Pedro Ximenez, and Moscatel.
Wines are produced using varying amounts of the three grapes, and are purposefully oxidized so that they develop nutty aromatics. Sherry also has a high alcohol content of 15-20% (although slightly less than port). This is because the fermentation is halted after completion.
What are the different types of Sherry?
Fino (dry)
The lightest and most dry of all the Sherries with tart and nutty flavors.
Manzanilla (dry)
A specific style of Fino Sherry from a more specialized region that's even lighter than Fino.
Palo Cortado (dry)
A slightly richer style of sherry that is aged longer producing darker color and richer flavor. These wines are typically dry but will have fruit and nut aromas with salinity.
Amontillado (mostly dry)
An aged sherry that takes on nutty flavors of peanuts and butter.
Oloroso (dry)
A very aged and dark sherry that has higher alcohol content due to the evaporation of water as the wine ages. This is more like the scotch of Sherry.
Cream Sherry (sweet)
A sweet style of Sherry made by blending Oloroso with Pedro Ximénez Sherry.
Moscatel (sweet)
A sweet sherry with fig and date flavors.
Pedro Ximenez (PX) (very sweet)
A very sweet sherry with brown sugar and fig-like flavors.
Sherry is hardly a popular wine these days. It's served mostly in Spanish restaurants and fine wine bars. When you've had a couple of Sherry's already it can be tricky to remember which one is white, red, sweet, dry. Use this guide below to help.
The Sherry colour guide
Flavors:
Most Sherry is then aged in a solera system, in which vintages are blended together to ensure the consistency of the final product.
Food pairing:
Enjoy with mild cheeses, olives, charcuterie, and tapas. The lower alcohol and saline quality make it a great aperitif. With oysters, Fino and Manzanilla Sherry are excellent choices.
For all Dessert wines….
What temperature should dessert wines be served at?
Serving temperature: All Sparkling and Dessert Wine should be served chilled at around 40-58° F, or 4-5°C. However, some will argue that really good quality dessert wines, like a fine Sauternes, should be served at 58 degrees.
What temperature should dessert wines be stored at?
Storing temperature: All Dessert Wines should be stored at 10°C to 15°C. Just like normal wine.
Most experts, such as Jancis Robinson, recommend that wine be kept at constant temperatures between 50 and 59 °F (10 and 15 °C).
Temperatures over 70 degrees for a significant amount of time can permanently taint the flavor of wine. Above 80 degrees or so and you are literally starting to cook the wine. If your wine tastes jam-my when you crack it open, you probably don't want that.
Happy drinking and Felicidades!