What is Cabernet Sauvignon?
There really is no varietal in the world, more popular than Cabernet Sauvignon. Since so many people and wine makers especially love Cabernet. It is associated with prestige and they often comes with a high price tag – especially in Bordeaux and California.
Some people don't know, that Cabernet was the most widely planted grape varietal in the world for a long time. For that reason, it is often associated with table wine.
Cabernet Sauvignon (or Cab Sav) is a red grape that dark in color. Wine drinkers love Cab Sav for its rich tart black fruit; with flavors such as black current, black cherry and violet fruits.
The wine is dry (not sweet) and has a healthy level of tannin, which is why your mouth dries out when you sip it. Many people who drink Cabernet Sauvignon may identify flavors such as bell pepper in their wine, along with tobacco, eucalyptus, herbs like mint, along with a hint of vanilla that comes from the wine aging in the oak. Many of these flavors will depend on the soil, and where the wine is grown.
Cabernet Sauvignon is a full bodied wine that should be drunk with food, given its medium levels of acidity, tannins and alcohol. However, we don't preach that this is a hard and fast rule for drinking Cabernet drinking wine with food; just that is may be overwhelming consuming a few glasses without food.
Is Cabernet Sauvignon the offspring of Cabernet Franc and Sauvignon Blanc?
When Frank met Sauvignon. Back in the 1800's in Southwestern France, an accidental breeding occurred between a red Cabernet Franc grape plant and a white Sauvignon Blanc grape plant and thus was born the soon to be most popular grape among American wine drinkers. The result was a wine that was full-bodied with a medium level of acidity that was fantastic for drinking with food. A prehistoric love story. Although this was not proven until 1996 by wine researchers at UC Davis.
Cab Sav was first adopted in parts of France, whereby winemakers were in the search for more durable plants that were relatively easy to grow.  The Bordeaux winemakers loved the grape's healthy tannins and vines resistance to the seasonal elements, which meant the wine could evolve in the bottle for many years. They also determined that it responded incredibly well to spending time in oak, which brought out beautiful new flavors.
Where is Cabernet grown?
Cabernet Sauvignon is widely planted in other countries all over the world.
France has the most plantings of Cabernet Sauvignon, as more than 55,000 hectares are cultivated with Cabernet Sauvignon.
Chile with 41,000 hectares, United States – 35,000 hectares,
Australia – 25,000 hectares,
Spain – 24,000 hectares and rounding out the top 5, then believe it on not,
China – 23,000 hectares.
The grape is also widely cultivated in Italy, South Africa, Argentina and Bulgaria. However, it's also planted vineyards ranging from Canada to Lebanon to New Zealand to Israel and Austria! Cabernet Sauvignon is planted all over the world! In part, this is because of the style of wine produced by the grape.
Cabernet Sauvignon is also popular due to its world-wide renown fame, the ability to produce crops with high yields and more importantly, Cabernet Sauvignon can ripen in a diverse array of soils and climates. The amazing ability to adapt to so many different terroirs explains how the grape can produce great wine on multiple continents.
As you can tell from all the different countries with plantings of the varietal, the relatively hardy Cabernet Sauvignon grape can be grown in a wide range of terroirs. However, Cabernet Sauvignon is at its best in poor, deep gravel soils and sun with warm temperatures. Part of the reason Cabernet Sauvignon performs so well in Bordeaux are the deep, gravel soils and gentle slopes. That combination allows for good drainage after the rains, which force the vines to burrow deep into the soils.
Why is Bordeaux so famous for growing Cab Sav?
With the spectacular hype and growing popularity of Cabernet Sauvignon, wine makers started to play with the varietal and began blending it with other grapes, such as Merlot (also widely popular at the time). It was not before long, they created the world's most famous wine blend: the Bordeaux blend.
The Bordeaux wine blend evolved into one of the world's most famous and highly coveted wines, and with it the Bordeaux brand spread across the globe.
As the name of the grape spread, and more people around the world began to grow it, many took to calling Cabernet Sauvignon the 'great colonizer', as it became the most widely planted grape globally, until Merlot overtook it in the nineties.
Apart from its success in Bordeaux, Cabernet Sauvignon saw its reputation take off even further when it was planted in California.
What's all the hype surrounding Californian Cabs?
Cabernet Sauvignon berries are small, spherical with black, thick and very tough skin. This toughness makes the grapes resistant to disease and able to withstand autumn rains. It's a late season ripener. We'll often be picking the Cabernet Sauvignon as late as May that is well and truly into autumn. This is a gamble for us in Gippsland as the winter rains can ruin a spectacular crop, but thankfully this doesn't happen often.
Cabernet Sauvignon vines are best suited for a sunny, warm (and not too hot) climate, so that the grapes ripen slowly. While many places in California are quite hot, and increasingly so, Napa Valley's location on the San Pablo Bay causes an induction effect at night that delivers morning cloud cover.
In 1976, a Cabernet Sauvignon from Stags' Leap in the Napa Valley beat out the top Bordeaux Chateaus in the 1976 Judgement of Paris in a blind taste test. From that moment on, California Cabernet Sauvignon was launched into the world and began to be ordered at steakhouses around the globe.
Cabernet wine characteristics and alcohol:
As a wine, Cabernet Sauvignon is known for its gorgeous dark, full body and an alcohol content that is over 13.5%, with most Cabernet Sauvignon, especially those from places such as California, Australia and Chile, being more like 14.5% and sometimes even going over 15%.
It is grown in nearly every major wine producing country among a diverse spectrum of climates from Canada's Okanagan Valley to Lebanon's Beqaa Valley.
Cabernet Sauvignon is knows for its rich tart black fruit, with flavors such as black current, black cherry and violet fruits. Other unique characteristics that are helpful to spot when deciphering Cabernet among other varieties are capsicum, pepper, vanilla.
To try: Next time you are drinking a Cabernet, try using this chart to identify different flavor characteristics.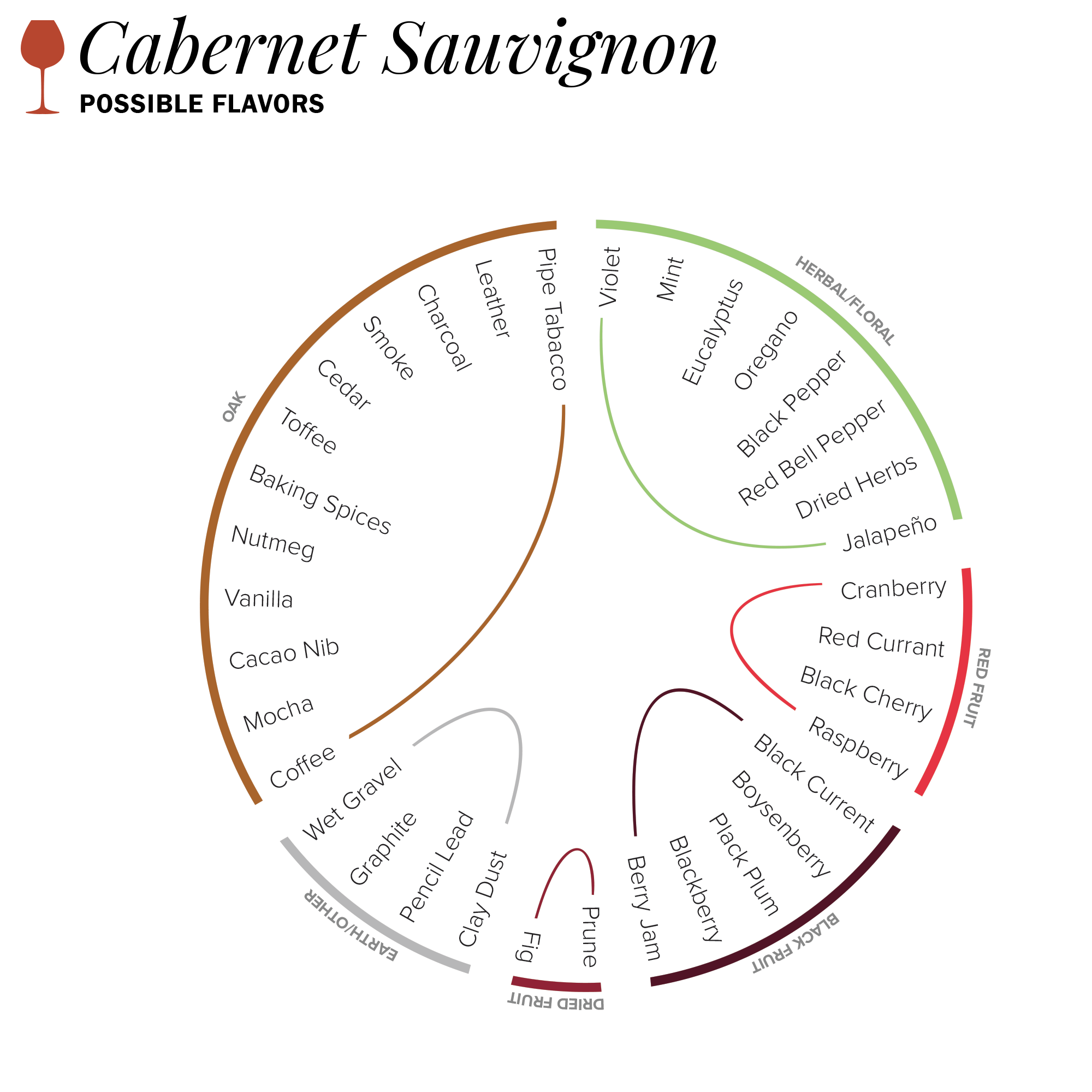 Another way to accelerate your learning curve with Cabernet, and other varieties is to start your own wine tasting journal. That way each time you drink a glass you can write the the key observations such as flavors, vintage and what region it's from to reflect on later. Wine journals are a great way to get better at drinking wines, rating your wines, and also remembering what flavors you uncovered. They are often used and enjoyed among wine novices, serious enthusiasts, and wine professionals alike.
How long can I store my Cab Sav for?
Cabernet is rich in tannin, acidity and alcohol, which means that its perfect for saving. If premium grapes went into your bottle and stored in a stable environment, it will improve with years, developing its own bouquet, aroma and essence . Certainty worth saving. A high quality Cabernet should cellar for up to 10 years.
While it depends greatly on the style and quality of the wine, most bottle's of Cabernet Sauvignon will rest comfortably and age beautifully for a minimum of 7-10 years. A superior Cab Sav, such as those grown with high vintage grapes, from terrior and, or Flagship wines will continue to bring pleasure to wine collectors after 20 years in a cellar.
What does aged Cabernet taste like?
What is the best food to eat with Cabernet Sauvignon?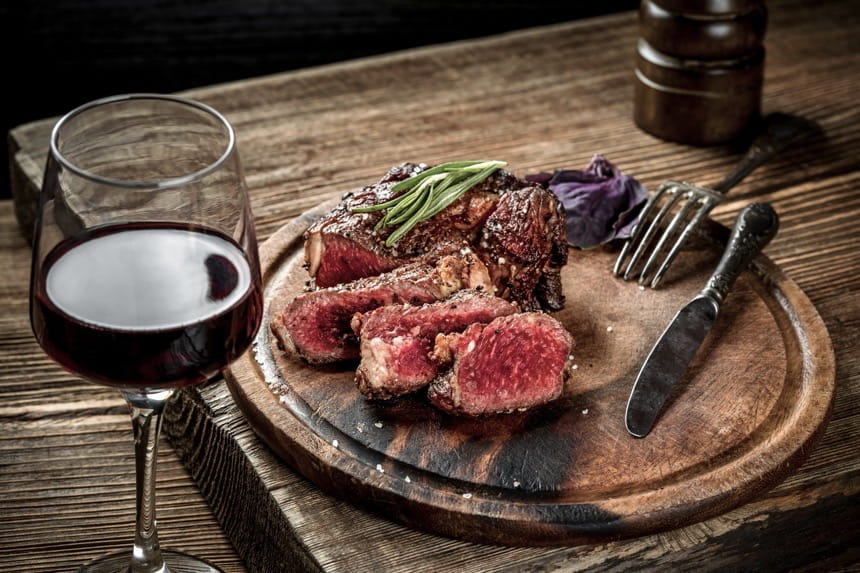 What foods go well with Cabernet Sauvignon? It goes without saying Cabernet Sauvignon should be enjoyed with food. Our favourite is an eye filled steak, where it is a great accompaniment with the dense and hearty flavors.
Typically fatty red meat dishes such as: roast beef, BBQ meat, fillet mignon, lamb chops and goat. Although most dense foods should accompany your Cabernet well. Other tasty accompaniments include: burgers and portabello mushrooms, due to Cabernets earthy characteristics. Cabernet may also go well with chocolate and and cheese dishes, and is great in sauces or reductions. In saying all this, you should be drinking what you like regardless of menu selection. Just try to enjoy this wine with food.
Who was Cabernet Sauvignon named after?
The actual discovery of the true origin of Cabernet Sauvignon is moderately recent. In 1996, a team of scientists led by Carole Meredith, the owner of Lagier Meredith, (a Rhone varietal producer from California) used plant DNA material to determine the fruits origin.
It is thought that the variety was created by an accidental crossing that took place sometime in the 17th century between Cabernet Franc and Sauvignon Blanc. Due to the creation of Cabernet Sauvignon in France, as well as the perfect terroir and soils found in the Bordeaux region, you might think that more vineyards are devoted to Cabernet Sauvignon in France than in any other country.
Did you know? There is a myth circulating that 'Cab'-'er'-'net' as it was originally named, is be a paraphrase – after the inventor of the grape – Carol Bernet.
However we cannot confirm this is true.
The oldest recorded Cabernet Sauvignon seems to appear in the 18th century with reference to Baron de Brane, who planted a red variety called "Vidure" on Chateaux Mouton.